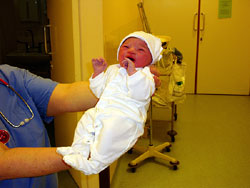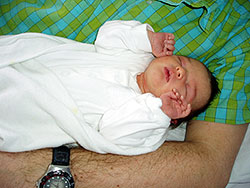 Lucy was born on 12th March 2004. Despite the spikey hair and hairy forehead, she was perfect! And it was the happiest day of our lives. The next few weeks and months were very happy as we adjusted to a new person in our lives. Life couldn't get any better. We often wondered why we had left having kids as late as we did, it was the happiest feeling.
We went on holiday to France for 2 weeks at the end of September before Lucy started nursery and Nic went back to work. Our lives started to change direction from then on after Lucy started nursery and was exposed to new bugs and infections. She was very happy at nursery, but had quite a bit of time off (and also we had quite a bit of time of work). This didn't seem out of the ordinary as most kids suffer virus after virus after starting nursery, especially at the time of year when the nights are drawing in and temperature drops. One thing that did occur to us after a few weeks of this run of sickness was that Lucy didn't seem to cope with illness that well and whatever it was that week that was going round nursery lucy got it, and got it worse than the others. Croop was a problem for Lucy and we had a number of visits to A&E throughout October and November because she was having difficulty breathing. Whilst this was worrying for us new parents, we didn't really consider anything by it, it was just life with a new child at nursery. Also we noticed that Lucy's weight was by now not really progressing as it should have done and in November was still the same weight as she was in September before she started nursery. She was a faddy eater and as soon as she got ill with a cold or whatever, food and drink went out of the window. it was a constant source of worry for us.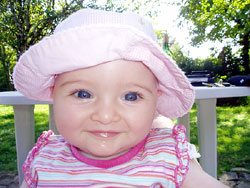 At the end of November Lucy acquired a really heavy cold. We were worried as she did seem quite poorly, but thought as usual she would be crook for a few days and then back to normal. We decided that I should continue with plans to go away for the Saturday night to watch a football match that we'd had tickets for for weeks. The Saturday night was difficult for Nic, lucy went down hill and seemed to have breathing difficulties over night. On my arrival back in Oxford on Sunday we took her straight to the out of hours GP service and they referred her straight to A&E as they thought she had a chest infection and her chest did not sound right. In A&E they took a chest x-ray and thought it was clear. They told us she had bronchilitus (as had many kids in Oxford at that time and A&E had been inundated that day) but that her blood Oxygen levels were good (98% approx) and we should keep an eye on her and bring her back if she got worse. We felt reassured that it was nothing too "major" and that it would pass in a few days. Our Sunday night was bad, she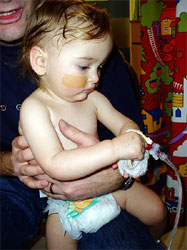 seemed to get worse and was struggling to breathe overnight, she spent the night in our bed and neither Nic or I got a wink of sleep. In the morning she seemed to improve slightly and so I went off to work as normal. Nic didn't work on Mondays so she was at home with Lucy. In the afternoon I got a call from nic who was clearly worried about Lucy's condition as she had deteriorated again, not feeding, struggling to breathe etc etc. Nic decided it was best to take her back to A&E for another check-up. I agreed and said I'd meet her there. It was a good decision! After we had been in A&E for about 2 hours (after the senior doctor had decided that Lucy needed admitting to hospital as her blood oxygen levels had dropped to about 91% and needed some help, through Oxygen, to breathe) she took a serious turn for the worse. Within what seemed like the blink of an eye her blood oxygen had dropped to below 60%, her colour had drained completely and her heart was working overtime to keep her going, she had been rushed into the Resuscitation room and had 10 to 15 medical staff buzzing round her. We were told that Lucy was critically ill and that they were working hard to save her life. She was being stuck with needles in her hands, feet, arms getting lines into her to give IV antibiotics and fluids. It seemed like we had been transported into our worst nightmare and all we could do was stand and watch, in a complete state of panic. This situation went on for about an hour and a half and slowly she came round. The doctors, despite not really knowing what was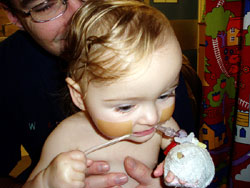 wrong with her had managed to bring her round but she was still very poorly and not the Lucy we knew. We were then sent round to Paediatric ITU where we spent about 3 hours so that they could keep a close eye on her and ensure she was out of danger. We made it up to ward 4C at about 10pm that Monday evening. Our parents had been worried sick when I phoned them about 9pm as they knew Lucy was unwell, and had tried to phone us at home with no answer, they knew something was wrong. I will never forget that phone call to my mum, it was very upsetting. We felt totally traumatised by our experiences that day. Lucy spent 4 days in hospital, steadily improving each day. The poor little girl who wasn't yet 9 months old wondered what was going on. We got her home on the Friday lunchtime after what had been a difficult and exhausting week. We reflected on our experiences a lot over the next few weeks and just didn't know why Lucy had become so ill.
The rest of the winter was difficult as we lurched from one illness to the next. February came and saw Lucy admitted to hospital again with a really bad bout of Gastroenteritis, this time she was in for 3 days. Lucy's weight was still about the same as it had been back in October and her numerous illnesses kept knocking her back. We were seeing Dieticians about this but anything we tried didn't seem to work.
We went back to outpatients in mid March for our final follow-up from her bronchilitus/pneumonia event (just before Lucy's 1st birthday) where we expected to be discharged. After a brief chat the doctor left the room to check something with the Consultant. The consultant came back in to look at lucy and it was then a bomb was dropped on us. The doctors thought that Lucy had an elongated head and no evidence of a "soft spot" on the top of her head. They thought that she might have a condition called Craniosynostosis, but would need to do x-rays of her skull to be sure. We were in a spin again with no idea of what this condition was, what it meant, why? when? so many questions buzzing round our heads with no real answers. We came back in for x-rays the following week and saw the Consultant straight afterwards. The diagnosis was confirmed, Lucy had Saggital Craniosynostosis. The doctor tried as best she could to explain what it was and what would be the likely course of events, but she would be referring us to Mr Wall, Consultant Craniofacial and Plastic Surgeon at the Radcliffe Infirmary in Oxford. In layman's terms it meant that Lucy's saggital suture line (the centre gap) in the top of her skull had fused together too early which meant that her skull was not growing in a uniform way and her head was becoming overly elongated and a high forehead. It seemed so unfair on Lucy, who had already been through so much that she now had to endure more upset and hospital visits. We were devastated and despite trying for it not to take the shine of her birthday celebrations, it did, certainly for us parents anyway.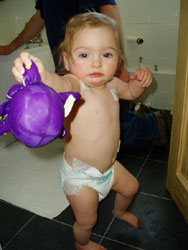 We got an outpatients appointment through with Mr Wall for early April. He explained in more detail about the condition and what it meant and broadly what the procedure would be to rectify the problem. The "good" news was that the type of synostosis Lucy had was the most common and was usually non-syndromic ie that there is usually no other disorders that accompany it and other than the potential risk of brain damage if the operation is not undertaken everything else should be fairly straight forward. (It did become apparent though that Lucy's previous health problems may not be completely unrelated to this condition. It was suggested to us that whilst they would never know for sure, other babies/children with this condition have been on the small side and therefore have tended to be more "sickly" than other kids. Despite us being devastated by the news of Lucy's diagnosis, we did get some positive thoughts about the fact that we may now be understanding why Lucy had been hit so hard by fairly minor illnesses and ailments, that other kids would have just shrugged off). Mr Wall said they would need to do a CT scan as soon as possible to ascertain exactly what the situation was, but in his opinion the operation would need to be done. Lucy had her CT scan in mid April which meant a general anaesthetic for her. We saw Mr Wall again in May with the results of the scan which again reconfirmed the diagnosis and the need for the operation, although again there was good news, there was no evidence yet of intracranial pressure (pressure within the brain due to a constricted space to grow) which meant the operation was not mega urgent. For us, once we knew it needed to be done we just wanted to get on with it, despite the thought of it scaring the hell out of us!
For Lucy's sake we had a fun filled summer, and she had a long spell without any illnesses – at this time it seemed so hard to believe she had this underlying serious health condition that required major surgery.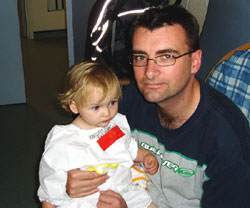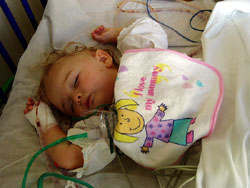 Her operation was scheduled for the Thursday before the bank holiday weekend in August 2005. We had been told that we would have a difficult few days, and that Lucy would have to go in for 2 or 3 three days before her op to have a series of tests to ensure all the "t's were crossed" and that she was healthy enough to undergo surgery. The morning arrived when we had to go into hospital. Lucy didn't really know what she was really in for, as parents we were very apprehensive. We met lots of people during that week, it was reassuring that everything was being done so thoroughly, eye and ear specialists, neuropsychologists, neurosurgeons, anaesthetists, paediatricians, Mr Wall, nurse specialists and so on……bloods were taken to ensure an exact match could be made for the transfusion that would have to be done during surgery – Lucy did not like the needles!! We worried about anything and everything that week. Lucy had a minor cough and cold which worried the hell out of us, but to the doctors this was a minor issue that could be dealt with, reassured, but still concerned that the operation was still to go ahead. The Paediatric Dr on the ward was superb with us that week. We were fretting, big time!On the Wednesday afternoon Mr Wall met with us to go through the consenting for the operation process, which took about an hour. We knew there were real risks of this surgery, but to hear it from the surgeon who was undertaking the operation was a shock and we found it difficult to remain objective and remember all the questions we wanted to ask. The risks and dangers were major and plentiful. Frankly you can't remove a persons skull and put it back on a different way without there being serious risks to health and life. The positive thing we clung on to was that out of the 40 or so operations similar to Lucy's over the last ten years performed in oxford only one had had a problem during surgery.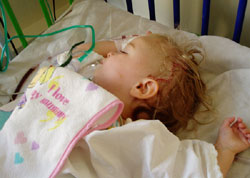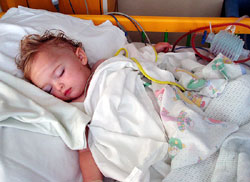 The day of Lucy's operation came, Lucy was third on the list, which meant she was likely to be started about 1pm. The morning was difficult as she wasn't able to eat or drink anything all morning, she didn't understand and was distressed by being so hungry and thirsty. We took her out for a walk around town to try and get her to sleep – we bought her a soft Eeyore which she instantly fell in love with. We went back to the ward, and I walked her up and down the corridors for what seemed like hours. Finally we got the call at about 1.30pm. She was dressed in a little gown, which swamped her little frame. Nic carried her the 5 minute walk to the theatre block. We both went into the Anaesthetic room with her and both struggled to keep our emotions in tact when she finally stopped jerking and fighting as the gas mask was put over her face to put her to sleep. We were ushered quickly out of the room so that they could get on with the job – it was pretty hideous that experience. Not something you can really forget easily.

We wouldn't see Lucy until about 7PM that evening, and the afternoon was a bit of a blur. We wandered round some shops aimlessly like zombies. It was horrible. Feeling of total helplessness. When we saw Lucy that evening she was completely asleep as she was being given IV morphine as well as antibiotics and other drugs. She would not be awake until the following day when we would be able to hold her. (We had already been told that we were not allowed to stay on the ward with her that night as the staff would be too busy looking after her). We met with Mr Wall who said that the operation had gone totally according to plan and although having needed a blood tranfusion, she had not lost a huge amount of blood so he was very pleased. The relief of hearing that was incredible.
We had so many people to ring and to text about the news, we could feel the relief in everybody. It meant a lot to us all that so many people cared.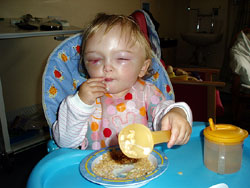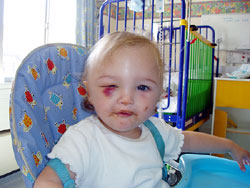 The following day the full extent of the operation was clear, Lucy looked in a bad way with a huge weeping scar from ear to ear over the top of her head, and a huge black eye. Two drains were sewn into her head, one round the front of her head and one round the back. Strikingly, her head seemed a completely different shape! Later on in the day we were able to take her out of her cot for the first time and we nursed her all day. As the morphine was reduced she started to come back to life, although still very groggy, she slept most of the day interspersed with bouts of distress and crying. It was a hard, distressing day. The staff on duty were always there for reassurance and help whenever we needed them, despite the stress of the situation, we felt in good hands. That night was bad too and really was a low point for me, we felt that Lucy wasn't improving, but in hindsight this was a ridiculous thought a day after very major surgery! I sat up with Lucy rocking her till the middle of the night whilst Nic tried to get some sleep. I will never forget another parent (of a teenage boy who was in being monitored for his epilepsy) coming in to talk to me at about 2am with a large tumbler of scotch – we shared our stories about our kids, tried to have a laugh and enjoyed the booze. I will never forget that moment, it was a small thing, but it was so uplifting. Nic took over about 3am and I tried to sleep – I have no idea how Nic kept going, given that she was still in her first few weeks of pregnancy, she was knackered and feeling nauseous.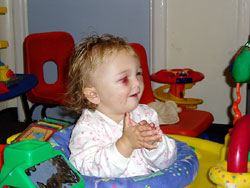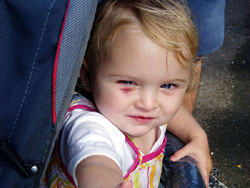 After the difficult night the Saturday morning was a turning point. Lucy awoke and started demanding food and drink (for the first time since Wednesday lunchtime), we were so relieved and proud that suddenly we had our little girl back. She seemed to get stronger by the minute from that moment. Saturday morning also saw the dreaded time when the drains were due to be removed. I held her while the nursing staff unpicked the stitches and pulled out the drains – it was not pleasant and Lucy found it distressing. We had been told to expect serious swelling from that point on but that this was a normal part of the healing process. By late afternoon Lucy's eyes were completely shut with severe swelling, her head looked like it was going to burst. Lucy didn't seem to care, by this time she was toddling off down the corridor to the play room with her grandparents who had arrived earlier. It was wonderful to see her getting back to normal. Over the next few days she continued to improve and her head swelling gradually subsided.
We left hospital on the Monday afternoon only 5 days after the operation – the speed of recovery still amazes us to this day. We left hospital with a list of do's and don'ts and instructions on how to care for the wound. If it scabbed we had to remove them by scrubbing and the stitches had to be removed. The scrubbing of the wound seemed counterintuitive to us, Lucy's head would be streaming with blood and it clearly distressed her, and us for that matter. However, we trusted the advice and did this diligently morning and night. This process seemed to be endless, but eventually over a period of weeks the scabs subsided and the wound healed beautifully.
By and large things since have been plain sailing in comparison, give or take the odd accident and head knock (which always makes our hearts skip a beat!). A year on Mr Wall is still pleased with progress, as are we.
Lucy and myself a couple of months
after her operation

Lucy and sister Holly
- born on Lucy's 2nd birthday (12/03/06)
Lucy on holiday in Scarborough
Sept 2006

We will be forever indebted to the craniofacial team at the Radcliffe Infirmary, as well as the staff on the childrens wards we have spent time on.